Comments: 0 - Date: May 9th, 2012 - Categories: Uncategorized Tagged: Art, DC Metro Area, George Mason, School of Art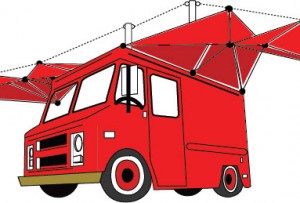 The Floating Lab Remuseum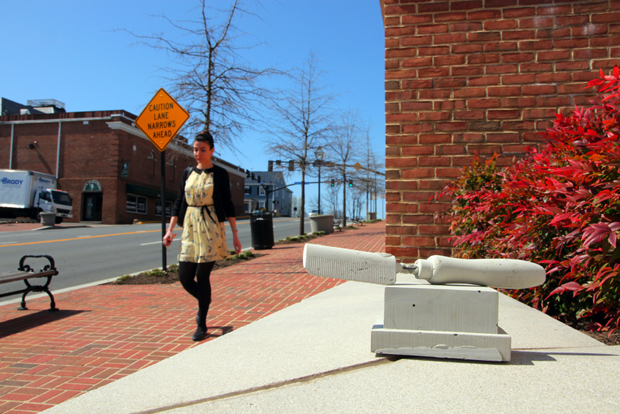 An object "re-installed" from the Remuseum
By Rachel Newdorf
Museums usually stay in one place.
But the Remuseum travels around the Washington D.C.-area in a converted food delivery truck.
The Floating Lab Collective is a group of artists collaboratively working together to create art that involves the viewers and make people look at their environments in a new way using all art forms to convey their message.
The Floating Lab was the brainchild of Edgar Endress, a professor of New Media at Mason in the School of Art. He was interested in bringing art to the public and how that affected contemporary art of today. Bouncing ideas off of other professors at the school, Endress brought them together for the 2007 art festival called Multimediale. Along with fellow Mason professors Sue Wrbican and Sean Watkins, and graduate students Blake Turner and Peter Lee, they created Protesting on Demand, and they have continued to work together ever since.
While the professors, Endress, Wrbican, and Watkins get the grants and funds for the projects, students and graduate students are welcome to contribute to any project they are currently working on. In fact, an idea from an art class sparked the group members interest in starting a collaborative group like The Floating Lab.
"Students learn how to professionally create a show," Sean Watkins, a professor of New Media and a member of the group explained. "It is important as hell to learn, and it is easier to learn when doing so they are better prepared in the real world."
From performance art, sound compositions as well as video and photography, The Floating Lab works in any medium to bring art to the public and encourages viewer participation.
One such participatory project was their most recent, the Remuseum. Taking ordinary objects that have value only to the people who owned them, the collective took the objects, their owners statements about them and created copies of the objects out of plaster molds. This could be anything from a coffee mug or a hairbrush, as long as there was a connection between the owner and the object.
Placing the molds in the adapted food delivery truck, the collective would pass the copied objects onto the viewers who were encouraged to take the molds with them and place them in a new environment such as in a building or somewhere public.
"We wanted people to re-install the objects," Watkins explained. Just like a museum installs a show of objects considered as important, the collective wanted people to take the ordinary objects and do the same thing.
"It is an interaction with the public," Watkins continues. "We want people to discuss what belongs in museums and become more involved in art."
Through their work, the collective has become a fixture to the area and has become more and more recognized over the years.
"Being a presence in D.C. makes us ambassadors to the School of Art as well as Mason as a whole," Watkins explained.
For more information about the floating lab, please visit their website at http://floatinglabcollective.com/